Dear Ted,
When Robert Small asked questions about Common Core at a public forum hosted in Baltimore County by the Maryland State Department of Education, he didn't expect that he would be arrested for doing so. After all, America is a free country, right?
Parents attending this "public forum," where they were told their concerns would be addressed, were contained in a "free speech" zone of the state's creation.
Their questions were not allowed directly from the floor. These questions had to be submitted in writing, and were then distorted by the "officials" running the meeting. Parents were railroaded into the preordained conclusions that Maryland's Educrats, like Baltimore County Superintendent Dallas Dance, wanted them to receive.
But what happens if you don't submit to their plans? Well, you get arrested for asking questions in a public forum, which would be the appropriate venue for addressing these very concerns.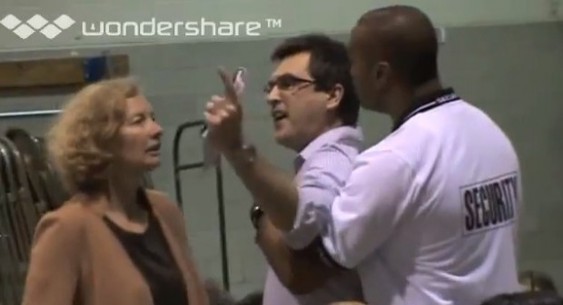 Question: what is the purpose of a public forum in which you can't ask real questions? My answer is that the Maryland Educational Establishment has an insidious secret they must protect from you, the citizen, at all costs.
 And that secret is…that Common Core is rotten to the Core.
Corrupt Educrats like Dallas Dance will stop at 

nothing

 to keep you in line and stifle your vocal and growing opposition to Common Core. In fact, they will even jail citizens and criminalize their every move to implement their radical agenda of indoctrination in lieu of education. Mr. Small was threatened with 10 years of jail time for a non-violent, non-crime that threatened only one thing: the State's chokehold on educational freedom in Maryland.
As this video went viral, citizens in Baltimore County and all across the country responded in righteous indignation at this direct assault on the individual liberty of a Howard County visitor.
I personally contacted as many people as I possibly could to get Baltimore County State's Attorney, Scott Shellenberger, to drop the absurd charges that should never have been levied against Citizen Small in a "free" society.   
By 4:30 PM, your pressure forced Shellenberger to capitulate and drop all the charges filed against Citizen Small. Score one for the little guy, or in this case, the Small Guy.
This is a Small but important victory for Liberty today. However, it does not solve the problem of Common Core's implementation. The threat of Common Core still menaces our children like the proverbial Sword of Damocles, hanging over their little heads.
Common Core is top-down, federal control of education, removes all pretense of local control, removes many of the classics, has intensive monitoring of children through the data-longitudinal system, and is indoctrination, not education. Common Core is the crown jewel in the Educrats' ambitions to control the minds of the next generation of young voters.
Will you help rescue our children today by signing our petition against Common Core?
Thank you for upholding individual liberty today. Principled opposition to tyranny, such as that which you have displayed today, is an important bulwark to maintaining a free society.
Will you help rescue our children today by signing our petition against Common Core?
For Liberty,
Patrick Hussey
Baltimore County Campaign for Liberty
Online pharmacy is a best way to find a physician in your area who treats such health conditions. Medicines such as Viagra mostly is used to treat conditions such as emasculation. Once people are watching for medicaments to resolve sexual soundness problem. A lot of families consider about "https://your-excellent-choice.com/canadian/female-cialis/". Perhaps you already read about it. Generally, when people think about Viagra, they think "Female cialis 10mg". Questions, like "Order female cialis 10mg", are united a lot of types of medicinal problems. Because some of these conditions are medicinal emergencies, it's big to know what to do if they happen. Unfortunately nearly all over-the-counter medicines have sometimes dangerous aftereffects, from muscle aches to death.